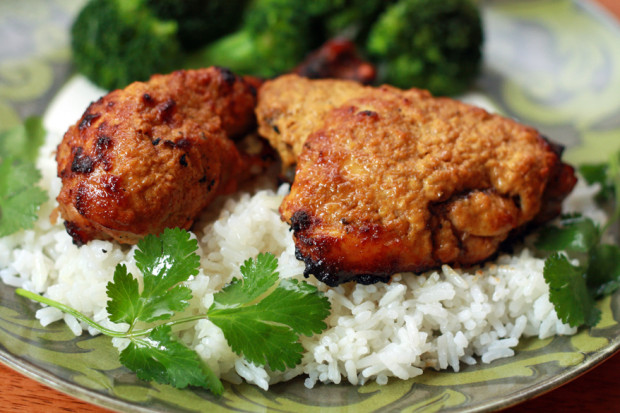 This is the ultimate Tandoori Chicken recipe!
 Ingredients
4 skinless chicken drumsticks
4 skinless chicken thighs
Vegetable oil
Marinade:
4 cloves
1 teaspoon cumin seeds
1 teaspoon coriander seeds
3 green cardamoms, seeds only
1 black cardamom, seeds only
½ teaspoon fenugreek seeds
½ teaspoon fennel seeds
1 cup whole milk plain yogurt
2 tablespoons fresh lemon juice
1½ teaspoons salt
1 tablespoon sweet paprika
½ teaspoon Kashmiri chili powder or cayenne pepper (add more according to heat preference
1 teaspoon turmeric
4 cloves garlic, minced
½ tablespoon fresh ginger, minced
1 teaspoon honey
Instructions
Heat a dry pan with a heavy bottom over medium heat (cast iron is best because it ensures even heat distribution). Add the cloves, cumin seeds, coriander seeds, cardamom seeds, fenugreek, and fennel. Toss the pan regularly to rotate the spices and prevent burning and roast until they emit a very rich aroma, about 3 minutes. Immediately place the seeds in a dish to cool. Once cool, use a coffee or spice grinder to grind the spices to a powder.
Put the yogurt in a medium bowl and add the spice powder along with the remaining marinade ingredients. Stir to thoroughly combine.
Cut deep diagonal slices into the tops of each piece of chicken, about 3 slashes per piece, depending on the size.
Place the chicken pieces in a shallow, nonreactive baking dish and pour the marinade over them. Make sure they are thoroughly coated on all sides, and rub the marinade inside each of the slashes. Cover and refrigerate for at least 4 hours, preferably 6-8. (This allows the marinade to fully penetrate the chicken and optimize flavor.)
Preheat the oven to 500 degrees F.
Place the chicken pieces on the grates of a roasting rack, or cover a baking sheet with aluminum foil and place the chicken on it. Drizzle the vegetable oil over the chicken (this prevents burning). Roast the chicken for 30 minutes, or until the juices of the chicken run clear when a knife is penetrated in the thickest part near the bone.
Serve immediately with rice or naan bread.