A traditional south indian breakfast dish made from semolina or vermicelli. Upma is served with coconut chutney or lime pickle. It can also be had plain.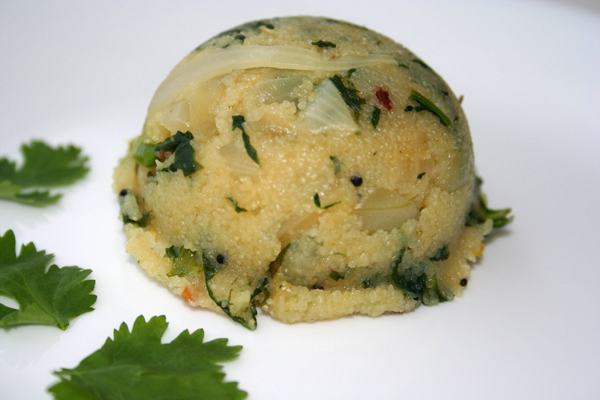 Ingredients:
1 cup roasted semolina/vermicelli
1 medium sized onion (chopped finely)
1 green chilli (chopped)
1 tbsp chana dal/spilt and skinned bengal gram
½ tbsp urad dal/spilt and skinned
½ inch ginger grated or chopped finely
2 to 21/4 cups water
1 tsp mustard seeds
½ tsp cumin seeds
1 sprig of curry leaves
7-8 cashew nuts
2 tsp sugar (optional)
2 tbsp oil or ghee
Salt as required
Procedure:
> In a pan, heat oil or ghee.
> Add mustard seeds.
> When you hear the crackling sound of mustard seeds, it means they are getting fried.
> Now add the cumin along with chana dal and urad dal.
> Fry till they start to brown a little.
> Add onions and fry till they become transparent.
> Add the green chilli, ginger, curry leaves.
> Fry for a minute.
> Add water to this mixture and let it come to a boil.
> Add salt. When the water comes to a rolling boiling, lower the flame and add the roasted semolina/vermicelli to it.
> Keep on stirring while you add the semolina/vermicelli.
> The semolina/vermicelli should be added not once but in 3-4 batches with a spoon.
> If you add it at once, lumps will be formed.
> Keep on stirring.
> The semolina/vermicelli will absorb water and swell and begin to cook.
> If the mixture looks dry, then add some more water.
> Reduce the flame and simmer the upma for 2-3 minutes.
> Keep stirring so that the upma does not stick to the pan.
> Garnish upma with coriander/cilantro leaves.
> Serve upma hot with slices of lime or coconut chutney or lime pickle.