Sheer khurma is an authentic version of vermicelli pudding specially prepared for Eid festivities. 'Sheer' is Persian for milk and 'khurma' is another word for dates.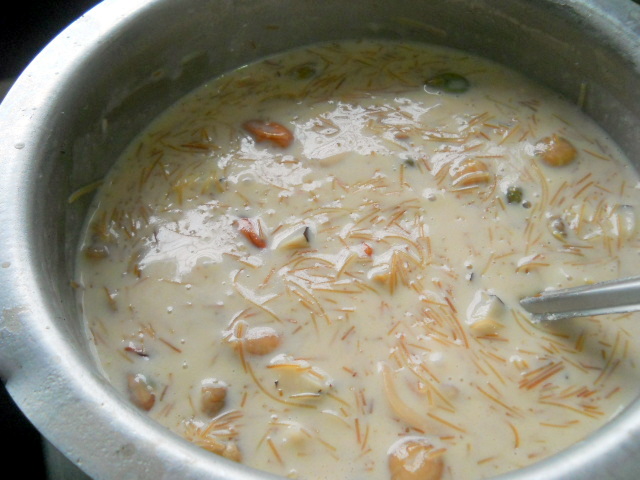 Ingredients
5 cups full cream milk
50 gm roasted vermicelli-broken into small pieces
50 gm dried coconut-grated
1/2 cup sugar
2 green cardamoms
2 Tbsp chopped dates
10-12 raisins
1/4 cup almonds-blanched and cut into pieces
1/2 tsp khus (vetiver)
2-3 vark leaves(silver foil commonly found on barfis)
Method
In a wide pan simmer the milk till it thickens to the consistency of cream.
Add the vermicelli, coconut, sugar, cardamom, dates and half of the raisins and almonds
Bring to boil and then simmer for about 5 minutes.
Add the vetiver. Transfer to a serving bowl, garnish with the silver leaves and the rest of the almonds and raisins.
Serve hot or cold.