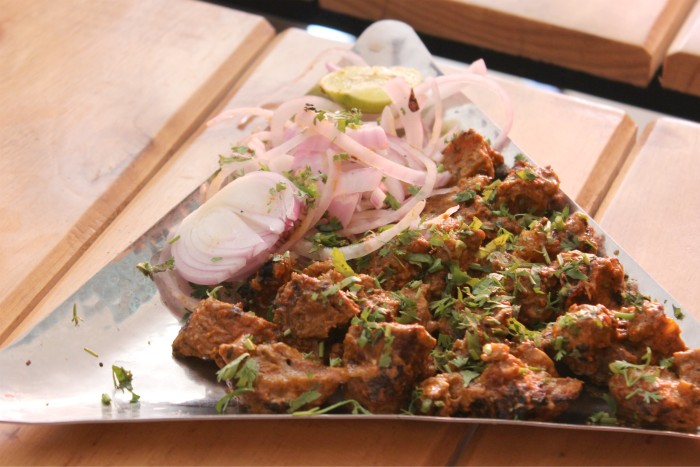 Thoroughly marinated, mutton cubes are cooked and then grilled on a skewer.
Ingredients
1 kg mutton cubes

1 1/2 Tbsp ginger paste

1 1/2 Tbsp garlic paste

3 Tbsp raw papaya paste

1 tsp royal cumin seeds

1 tsp black pepper powder

1 Tbsp kachri powder

1 tsp pathar ke phool powder

1 Tbsp kabab chini powder

1 Tbsp rose petal powder

1 tsp red chilli powder

3 Tbsp hung curd

1 1/2 tsp garam masala

1/2 tsp green cardamom powder

1 tsp coriander powder

2 tsp poppy seed paste – boiled and ground

2 Tbsp coriander and mint leaves

1 tsp green chillies

Desi ghee

Salt to taste
Procedure:
In a thick bottomed dish, marinate the mutton cubes with the garam masala, salt and red chilli paste, ginger and garlic paste, mix together.
Add the rest of the dry masalas and raw papaya paste and mix again.
Then add the curd and continue mixing.
Add the coriander green chillies and mint leaves, mix it and leave to marinate for at least 1 hour.
Now cook the marinated mutton cubes on a slow fire for 20-30 minutes.
Put the cubes on a skewer and pan grill them with a bit of ghee for 6 -7 minutes. Serve hot with onion rings and mint chutney.